How To Score A Deal On Home Appliances
Martha Loveless of Loveless Real Estate Services
The Best Carmichael Realtor | HomeSmart ICARE Realty 916-.270.7081
Homes for Sale in Carmichael / What's Your Carmichael Home Worth?
Who doesn't dream of a kitchen full of shiny, new appliances and a refrigerator with a touch screen door that plays music, has a calendar and more. But lets be honest, who really needs all that! If you're looking for a deal on home appliances, use a few of these tips and tricks to score BIG!
BUY AT THE RIGHT TIME.  You can't go a week without seeing some kind of sale on appliances at one of the big box stores, but if you haven't been researching for awhile, you might not know when a deal is really a deal.  There are certain times of the year when you can get a better value on appliances.  Timing is everything, and the best time to get a deal on home appliances is when stores need you more than you need a new appliance!
January is when manufacturers will put out new appliance models and retailers are eager to move last year's inventory.  (Refrigerators are the exception: new models come out in the spring.)
Also note these times…the last days of the month, when stores are desperate to meet quotas – and certain holidays, like Labor Day, Memorial Day, President's Day, Black Friday – when stores take advantage of your day off and slash prices.
ASK ABOUT PRICE MATCHING.  This is a service provided by many stores, and one that many fail to take advantage of.  Retailers like sears, Best Buy, Lowe's and Home Depot will match the price for similar items – but you need to embrace the challenge of matching up identical product numbers…if it's off by one number or letter, it's a no-go.  Even better is Home Depot's offering 10% off competitor prices.  Best Buy also matches online prices with competitors like Amazon.
CHECK OUTLET STORES. Best Buy and Sears have outlet stores where discounted merchandise is available.  You can sometimes get a great deal on a refurbished or open-box item at these stores.  If you're not stuck on something brand-new or that's never been used (or even looked at) this might be a great option for you.
SHOP PRE-OWNED.  You'd be surprised how many ideal items are out there being re-homed by people who just renovated their kitchen and got rid of a perfectly good refrigerator or bought a new home and gutted everything even though it was all brand new because they hadn't picked it out themselves.  Their loss is your gain.  "Craigslist is one of the best sources for finding local private sellers who are looking to quickly offload equipment they no longer need.  Ebay is another good option, but be sure to shop locally.  There are also a number of great spots for pre-owned luxury appliances, but they tend to be tied to local markets – check in your local area.  Some appliance repair shops may even have inventory to sell.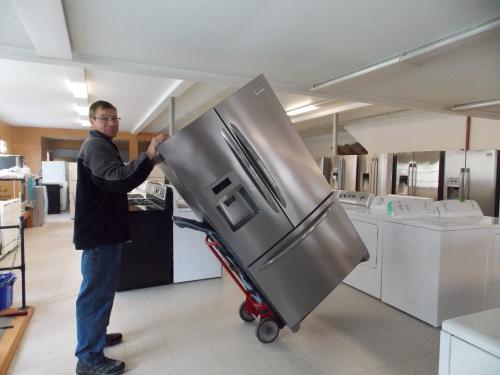 SCRATCH & DENT…may sound unattractive, but it's a great way to get a brand-new appliance that might have a little blemish at a big savings.  Google the term and see what comes up in your local market.  Some areas have scratch and dent warehouses packed full of savings.  Many of these items have a small scratch or dent in a place you can't even see – like on the side, which won't show when the appliance is installed.
CONSIDER WHAT YOU REALLY NEED.  It's easy to walk into the appliance section of Best Buy and be seduced by the $4,000 French Door refrigerator-freezer with mood lighting and the ability to make sparkling water from the door….but let's be serious.  Do you really need all that?  So save hundreds of dollars by going without the in-door water & ice. Problem solved.
Martha Loveless
916.270.7081
The Best Carmichael Realtor
www.LoveSacMetroHomes.com
*information provide by Jaymi Naciri for realtytimes.com*
Homes for Sale in Carmichael 95608 under $800,000
Homes for Sale in Carmichael 95608 under $700,000
Homes for Sale in Carmichael 95608 under $600,000
Homes for Sale in Carmichael 95608 under $500,000
Homes for Sale in Carmichael 95608 under $400,000
Homes for Sale in Carmichael 95608 under $300,000
Homes for Sale in Carmichael 95608 under $200,000